What do you expect in the
best face creams
of 2013? Personally, I love products that are packed with natural antioxidants. They "feel" so much cleaner and fresher than the creams that are usually pounded with chemicals. Specifically for anti-aging treatments, lightweight products seem to be the best, reducing fine lines and wrinkles effortlessly while adding beneficial vitamins that skin could be missing.
These face creams are amazing because I can keep a healthy complexion without spending hours enduring the damaging effects of UV rays from direct contact with sunlight. Not to say I don't love the great outdoors, but too much of anything is typically a bad thing.
So, instead of bathing in sunshine, I use the following 3 face creams that offer the same antioxidants and vitamin benefits without the harm.
_____________________________________
Philosophy Hope in a Jar Original Formula Cream
This jar is filled with hope! Literally. It says so on the label. "Where there is hope, there can be faith. Where there is faith, miracles can occur." This cream is a great place to put your faith for skin miracles to happen! Perfect for all skin types, the jar is available in 2 ounces or 4 ounces, both with a light, fluffy texture. It's lightweight and hydrating for daily use, and the antioxidant protection reduces the appearance of fine lines, wrinkles, and dark circles. Puffiness after a night of not-so-great sleep is also 100% eliminated!
_____________________________________
First Aid Beauty Ultra Repair Cream
Whipped and beautifying, this cream repairs skin that's been damaged by harsh chemicals, colorants, UV rays, or Parabens. An extra plus is it's not just for your face, as it can be used for all areas of the body! The ultra-cool formula is filled with antioxidants to boost your natural vitamins and enhance skin's resilience. You'll be hydrated, healthy, and radiant – prepared for anything that comes your way. It's initially available in a 2 ounce size; however, there is a jumbo 6 ounces for those who would rather go months at a time without making another facial cream purchase. Simply fab!
_____________________________________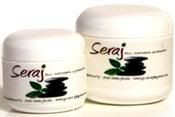 Seraj All Natural and Organic Creams
I love these creams because there are so many to choose from and they're all organic. For face and body, each product promotes anti-aging by reducing wrinkles and improving hydration naturally with an all-organic formula. Additionally, each cream also smells amazing and they're safe enough to use multiple times a day for extended periods of time. The downfall? I always wind up purchasing more than one because they're so awesome!
_____________________________________
Find the current best face creams -
check them out here
.